We are manufacturers and distributors
At POOLGLASS, we take care of manufacturing our glass filtration media and we also distribute it. As a result, through the direct contact with our clients, we are able to create a producto according to their expectations and requests, always at the best price.
Glass media for pool filters price
POOLGLASS has created competitive convenience to help you provide the best prices, always preserving high quality, since PoolGlass is a company which manufacturs and distributs his products.
Types of glass filter media POOLGLASS
GLASS FILTER MEDIA GRANULOMETRY
Our glass filter bags PoolGlass comes in 3 differents sizes:
Small from 0,5 up to 1 mm;
Médium from 1 up to 2 mm;
Thick from 2 up to 5 mm;
Which size should I get?
Our glass filter media is characterized by its ability to remove up to 150% more organic compounds compared to sand and other glasses.
Choose quality with our glass filter media, we offer you several sizes, the small one, the medium one and the big one. Our glass filtration media offer you de thinest and best filtration with roughly 15 micron. Thus its really eficient.
What is the glass filter media PoolGlass?
Our glass filter is a media used to treat your swimming pool water, it's the most eficient media nowadays.
This product is characterized by being ecological, since it is manufactured using recycled industrial glass as raw material, therefore, it reduces the environmental impact that water treatment can cause. POOLGLASS is made out of tiny grains with a polyhedral shape and smooth edges. These characteristics prevent them from compacting, in addition, they allow them to capture more and more particles.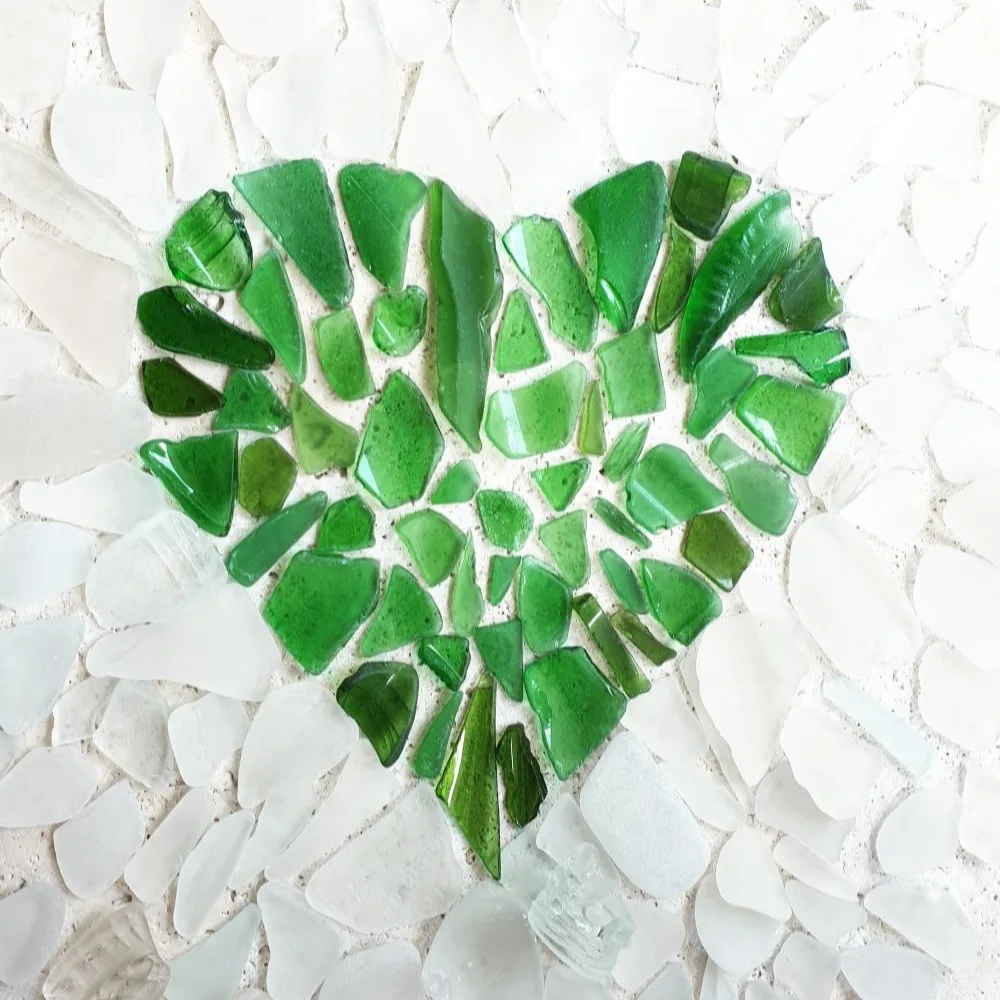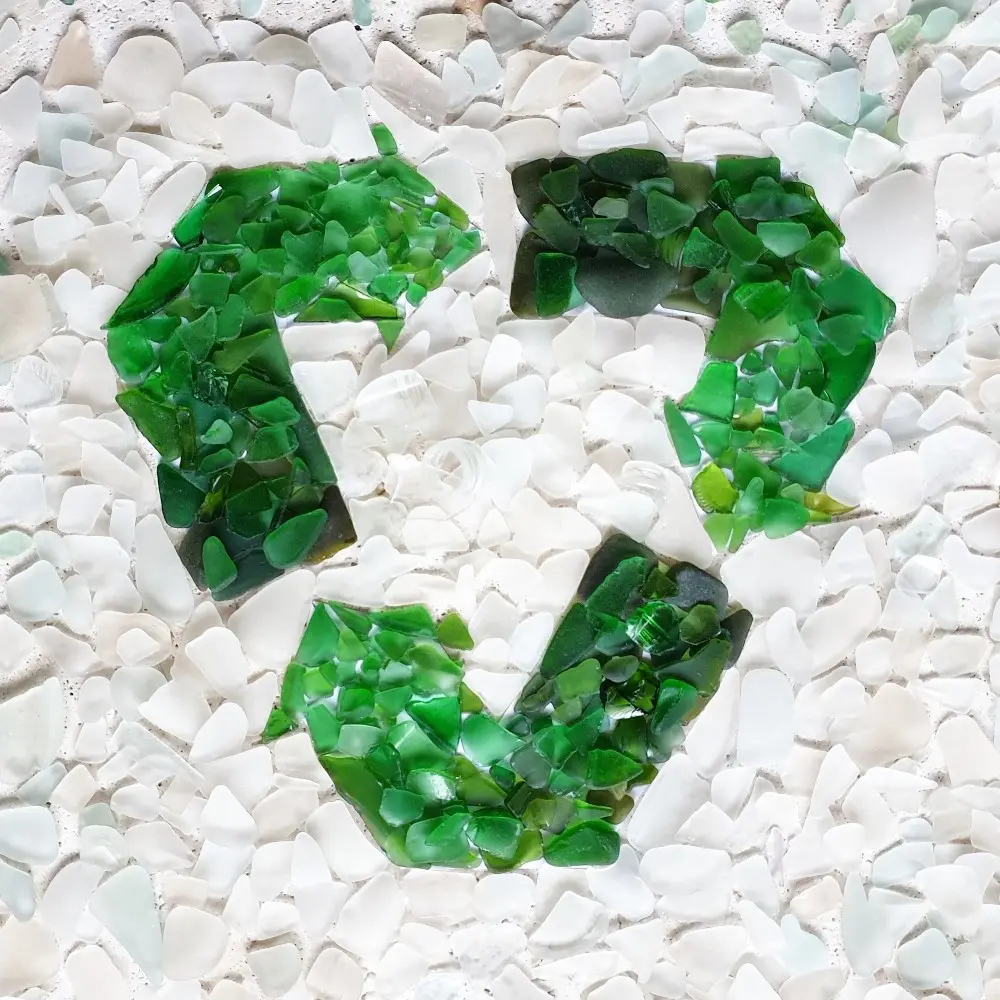 Recycling is one of the things closest to magic, it turns one thing into another
Our glass filter is made out of 98% of recycled glass. Those type of glasses for your swimming pool are choosen for their chemical caracteristics, when they go through the activation process, they turn it into a self-sterilizing filtration media. You'll have a filter media resistant to any bacteria multiplication.
Our glass filter media POOLGLASS, catch insects, bacteria and algaes from the pool to maintain the wáter clean and healthy. This swimming pool media filter is the most eficiente you'll find.
In POOLGLASS, our goal is to obtain products from natural processes and materials, which have been in great demand in recent years by consumers.
We believe that glass can have so many useful lives again, and at POOLGLASS we have chosen to recycle it to give it a new life and where better than in your pool?
What are the advantages of buying filter glass?
¿Cómo funciona el vidrio filtrante piscinas de POOLGLASS?
El vidrio por naturaleza posee una débil carga negativa en su superficie, con la cual tiene la capacidad de atraer pequeñas partículas, que se adhieren a este.
Estas partículas son liberadas al retrolavar para una depuración del agua más eficiente, cosa que sucede debido a que el vidrio tiene menor densidad que la arena y no se compacta.
La capacidad de filtración del vidrio filtro piscina es de hasta 9 micrones y no requiere floculantes para lograrla.
El vidrio filtrante piscina no es un tema nuevo en el mercado. Este producto se introdujo por primera vez a finales del año 1990 y causó gran impacto no solo por ser un buen sustituto para la arena, sino porque también significó un nuevo uso para el vidrio reciclado.
Sí, el vidrio filtrante para alberca surgió como una nueva manera para aprovechar los "desperdicios" generados al triturar el vidrio en procesos de reciclaje. Este material triturado es considerado desecho porque consiste en una mezcla de fragmentos transparentes, verdes y marrones; si se usara para crear nuevas botellas, el resultado final no sería muy "bonito" y eso no es lo que quieren las empresas.
Un estudio de campo realizado por Clean Washington Center, puso a prueba la efectividad del vidrio para piscinas y para ello, los investigadores reemplazaron 1950 libras de arena en tres filtros de agua a gran escala. Estuvieron durante 9 meses analizando los resultados y lo que encontraron fue:
Las lecturas de turbidez mostraron una reducción de hasta 25 %.
Se requirió un 20 % menos de cristal filtrante que de arena.
Los tiempos de retrolavado fueron 2:34 minutos, mientras que con la arena el tiempo era de 3:21 minutos.
Price of pool filter glass
If you want to buy a pool filter bag, at PoolGlass we will offer you the best price on the market. Why do we have the best prices?
We are manufacturers and distributors of pool treatment crystals so we will get you the best price/quality value.
Filter glass has a varied price, you can find it in various sizes, bags and quality. Buying with PoolGlass you have many options, we offer you a premim quality product at a very good price.
How much POOLGLASS filter glass does a pool treatment plant have?
It is normal for many, when starting to use this product for water treatment, to wonder how much kg of filter glass do I need? But, first of all, you should know that 1 bag of filtering glass sand with 20 kg is equivalent to 25 kg of silica sand and that only the characteristics of the filter in each particular case determine how much should be used.
For example, a 600 filter typically requires a 125 kg bag of sand, which is equivalent to 100 kg of filter glass. Whereas, a 500 filter usually requires an 85 kg bag of sand, which is equal to 76 kg of glass for treatment plant.
Next, we leave you a table with the amount of glass that filters generally need according to their size. From these data, subtract 20% from each kilogram to obtain the amount of filter glass you need.
*The amounts are indicative and may vary depending on each manufacturer.
WHERE TO BUY
What is the best pool filter glass?
The market is saturated with eco filter glass and each manufacturer has its own range of filter glass. But, some have specialized in the industry and the quality of their product is much higher than that of the competition.
FAQ about the swimming pool filter glass
Is filter glass for swimming pool treatment plant really ecological?

Yes, the treatment plant glass is made of glass that had been used for a while, but for one reason or another, was discarded and subjected to a recycling process.

However, something important must be highlighted: recycled glass is less pure than new glass, therefore its filtration power is also lower.

How is filter glass disposed of?

Although the filter glass has an approximate durability of 10 years, experts say that after 2-5 years it is necessary to change it.

In the case of silica sand, it can be removed by spreading it on the ground in the garden and this is not a problem. But, in the case of filter glass, this cannot be done.

It is advisable to take the waste to a recycling company for proper treatment.

How much glass does a 600 filter needs?

As we have already mentioned, the glass bags for treatment plants are equivalent in weight to 20% of a bag of sand. So, because a 600 filter requires 125 kilograms of sand, then a 100 kilogram glass treatment bag will be necessary.

Which filter glass should I buy?

Filtering glass comes in different types of granulation, so it is important to know which one is the most suitable for your pool.

Usually, buyers prefer the fine grain because it has more filtration power, but in reality, the size you really need depends on the type of system and the size of the pool where it will be used. Also, keep in mind that the smaller the grain, the more glass the filter will require to fill.

How is the glass filter cleaned and how often should it be changed?

In theory, the useful life of the pool filter glass is 10 years, however, this does not happen in all cases. Some manufacturers only guarantee a useful life of 3 years, while others guarantee 5 or 8 years. But for comparison, even if glass needs to be changed every 3 years, that's much better than the 6 months or 12 months required for sand.

It must be taken into account that the useful life of the filter glass for swimming pools is also affected by the size of the pool, but if the filter glass is cleaned once a year, we can prolong its efficiency for a longer time.

The cleaning of the filter is done by removing all filter glass for the treatment plant, it is rinsed very well with ordinary water and then it is placed back in the filter glass to continue with its work. Most people prefer to clean the glass when they put the pool in winter mode, but it can also be done in early spring without problems.

What is the best filter glass for a treatment plant?

The high quality of this product is achieved by using thin, good quality glass. POOLGLASS filter glass has glass granules up to 4 mm, which guarantees the absorption of the smallest impurities. It is also made from glass residue left over from the production of other glass-based products, resulting in a product of high purity.

Which is Better: POOLGLASS Filter Glass or Sand? Difference between Sand and Filter Glass

The differences between filter glass and conventional sand are quite noticeable. Although the price of filter glass is slightly higher than that of conventional sand, its advantages begin to show in the short to medium term, making it a much more cost-effective and efficient option in the long run.

We will detail the main advantages of our filter glass over traditional sand for pool filtration.

Better Filtration Efficiency

Filter glass has the ability to trap very small particles, eliminating debris as small as 1μM. Thanks to this, you will need less pool chemicals.

Lower Backwash Times

Filter glass requires less backwashing, allowing for savings in time, water, and energy.

Durability and Maintenance

Filter glass has higher wear resistance. The lifespan of filter glass can last for the entire useful life of the filter, although this also depends on correct maintenance according to the manufacturer, while sand needs to be replaced every 4 years if we're being optimistic.

Better for Health

By reducing the amount of chemicals and preventing the proliferation of microorganisms and algae, the possibility of skin reactions is significantly reduced. Filter glass is ideal for keeping the pool free of bacteria and swimming safely and healthily, avoiding problems and concerns that were previously more present.

In short, filter glass is a much more hygienic and healthier product for the pool than sand.

Sustainable and Environmentally Friendly

The POOLGLASS filter glass is made from recycled glass. This, along with its durability, results in an environmentally friendly product.
Fill out the form and we will contact you as soon as possible.